Historic Blakeley State Park encompasses more than 2,100 acres of the largest National Register Historic Site in the eastern half of the United States. Within the park's grounds are the site of the last major battle of the Civil War, including several miles of unspoiled Confederate and Union fortifications associated with the Battle of Fort Blakeley of April 9, 1865; the site and remnants of the important early Alabama town of Blakeley; colonial-era homesteads; and evidence of American Indian habitation from the Archaic, Woodland, Mississippian and Historic periods.
The park is situated in one of the most ecologically diverse sections of Alabama, and it is dedicated to preserving its natural setting as a unique wildlife preserve. The park traces its origins to 1974, when the 3,800-acre Blakeley Historic Site was placed on the National Register of Historic Places. In 1981 the Alabama State Legislature established the Historic Blakeley Authority as a state agency charged with developing and operating Historic Blakeley State Park.
The park currently focuses much of its historical interpretation on the story of the town of Blakeley and the Battle of Fort Blakeley which occurred on its grounds.
Participate in any of
the activities below to
earn chances to win
one of the exclusive
Historic Blakeley State Park
Summer Reading Prizes!
Chances for these prizes can only be earned by participating in the activities available on this page.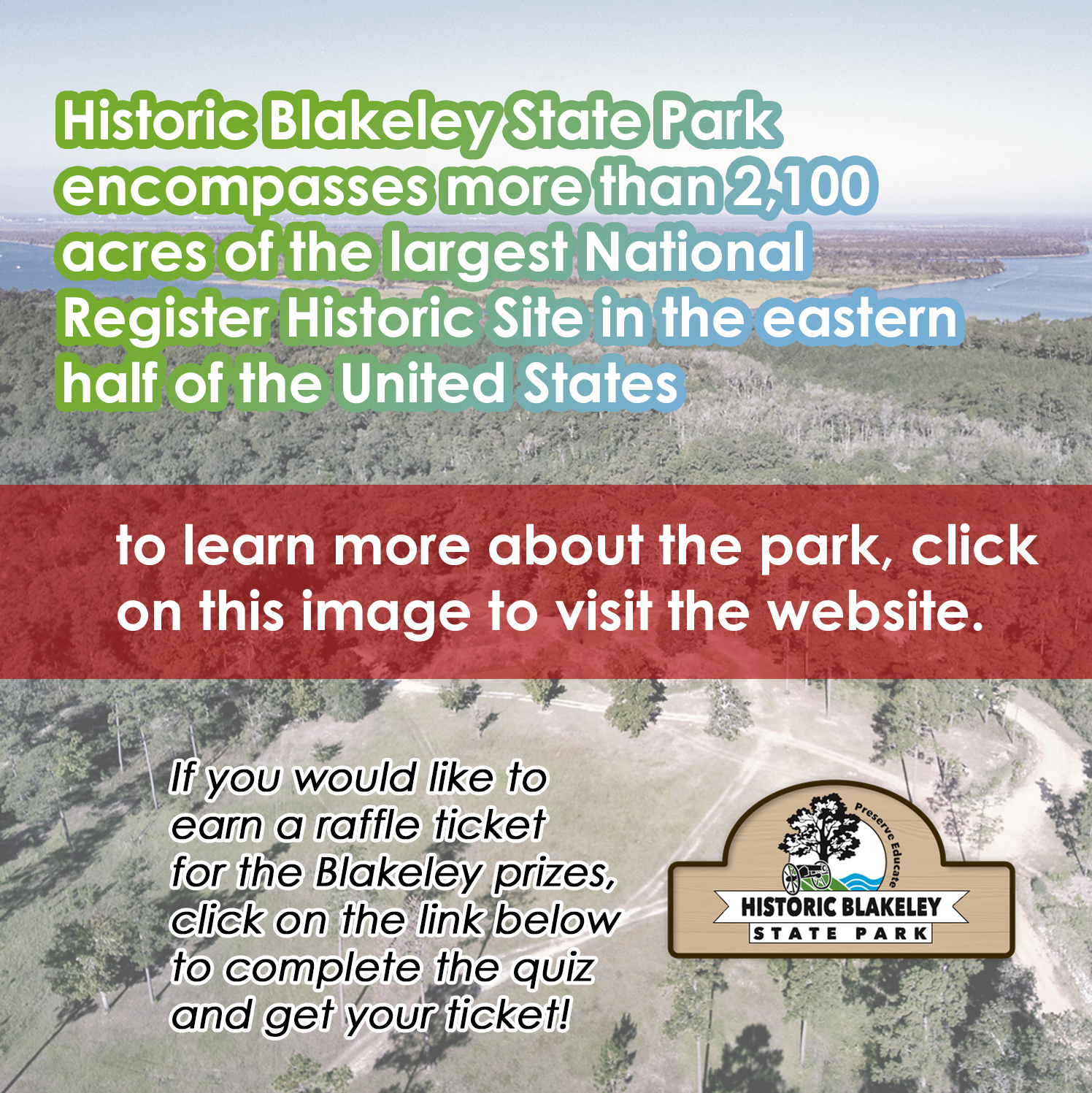 Visit the Historic Blakeley State Park website to get all the information! www.blakeleypark.com
Take the "Getting to Know Historic Blakeley State Park" Quiz by clicking

HERE
Found in Nature Story Scene Craft:
1)Find the materials: Use the examples here as inspiration to build your own story scene from bits of paper and things found in the yard and woods. Anything that looks interesting will work: bottle caps, twigs, candy wrappers. Let your imagination run wild.
2)Create it: Glue your creation to a piece of construction paper or cardboard, or whatever you can find that works!
3)Share it with us: Post a pic of your creation or bring it to the library !
To earn your Blakeley List prize entry:
1) Click anywhere on the image or follow this link: BLAKELEY LIST to access the reading list
2) Choose any title from the list to read.
3) Fill out and submit at least three(3) "Round Table Readers Book Rating" forms for the items you have read off the list. Print the book rating form HERE and turn it in to a library staff member or fill out and submit the form online by following this LINK